Revising how we consume energy
High energy costs are forcing us to revise how we consume energy in our homes and commercial buildings. In this blog we explain how the Velbus Energy Solution can help you achieve this goal and how you can start saving money.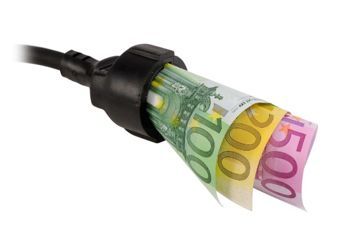 First things first
Capacity rate

Starting January 1st in 2023, the capacity rate will be in effect in Belgium. This means that not only your energy consumption, but also your peak consumption for 15 minutes plays a role in the electricity bill.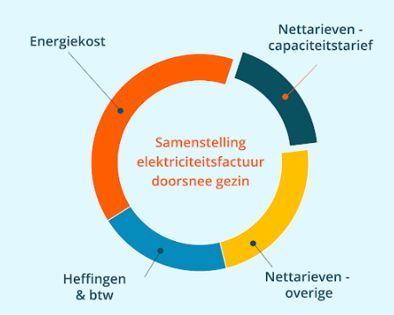 An example: you come home after work, set the heating (heat pump) to a higher setting, and start cooking. After a while, you also turn on the oven. At that time, your house will consume a large amount of energy and therefore cause a so-called 'peak'. If you maintain this peak for more than 15 minutes, this will be charged on your electricity bill for that month, even if you use less energy outside of this moment!
W, kW, kWh

Every electrical appliance has a consumption expressed in Watts (W). For example, a Christmas garland has a consumption of 8 W, a fast smartphone charger has a consumption of 60 W, and an LCD television has a consumption of 250 W. Larger consumers have a consumption expressed in kilowatts (kW), or 1000 times 1 W, for example a 4 kW (or 4000 W) induction hob, a 3 kW (or 3000 W) oven and a 3.5 kW (or 3500 W) heat pump. A charging station for an electric car is usually between 7 and 11 kW.
W and kW refer to the current consumption of a device. However, on your energy bill, the unit is kWh (kilowatts per hour), or the consumption of the device in kW for 1 hour. This is then multiplied by the energy price expressed in €/kWh. This way you get the cost price to use that specific device for 1 hour.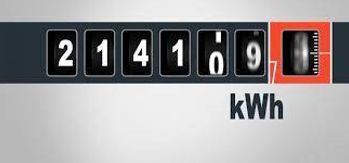 With the above examples and an energy price of €0.7 /kWh (Sept 2022 – incl. VAT & taxes) this gives the following bill to use the devices below for 1 hour:

Christmas garland           8 W           8/1000 kW * 1h * €0.7 /kWh          = €0.0056
Smartphone charger      60 W        60/1000 kW * 1h * €0.7/kWh         = €0.042
LCD TV                              250 W      250/1000 kW * 1h * €0.7€/kWh    = €0.175
Induction hob                  4 kW         4 kW * 1h * €0.7 /kWh                        = €2.8
Oven                                  3 kW         3 kW * 1h * €0.7 /kWh                        = €2.1
Heating pump                 3.5 kW      3.5 kW * 1h * €0.7 /kWh                     = €2.45
EV charger                        11 kW         11 kW * 1h * €0.7 €/kWh                    = 7.7 €

Of course, these are all small amounts, since you only use this device for 1 hour. Suppose we were to calculate this on an annual basis, this would give a better picture of how much each device costs you annually. We have created an overview of the most common home appliances (click on the picture for the full list).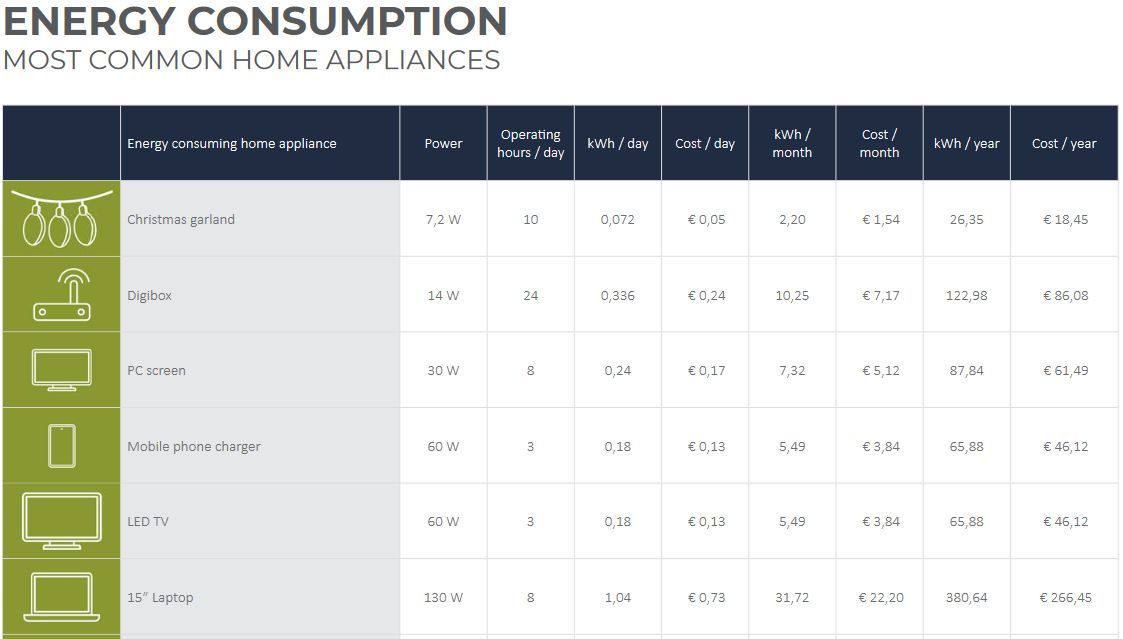 The big consumers are mainly the EV charger, heat pump & air conditioning, hob and oven. These are the devices that are important for peak consumption. Good to know: small consumers that are permanently on (such as a 14 W Digibox, with an annual cost of 86 euros) are not always efficient to switch on and off without sacrificing ease of use.
Peak Consumption

Peak consumption looks at the highest energy consumption peak during 15 minutes within a full month. In the example above we calculate 3.5 kW as current consumption for the heating, 4 kW for the hob and 3 kW for the oven. Together, these devices will have a peak consumption of 10.5 kW. Suppose you are also charging your electric car at the same time, then an additional 11 kW will be added. Good for a joint consumption of 21.5 kW.

Due to the capacity rate, the network tariffs on your electricity bill will also be calculated with this peak consumption. You can make significant savings to your bill by spreading the use of big electrical consumers and controlling your energy usage. In the example above, it is advised to postpone charging the electric car until you are done cooking. And Velbus can easily help you to automate this.
The Velbus Energy Solution

To provide an answer to this energy challenge, Velbus has developed 3 components to offer you a reliable and flexible solution: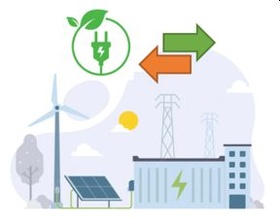 Measure
your energy consumption and energy injection.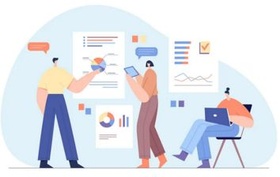 Visualize & report

what's happening in an understandable format.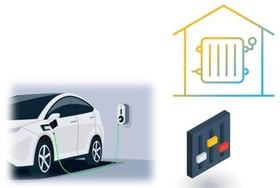 Control & adjust

your energy consumers.

Measure
To make smart decisions (switch energy consumers on or off based on your energy situation) we need to first measure your current energy situation. It is crucial that this data is accurate and updated quickly. Velbus has therefore chosen to use a reliable bi-directional energy meter from Italian electronics specialist Finder in its solution. This meter is placed in the meter cupboard after the main fuse and measures both the consumption of the grid (consumption) and the energy that is returned (injection) if, for example, you have overproduction of your solar panels. Since the energy meter works completely on its own, it is suitable for installations with an analogue or a digital meter, both for 3-phase installations and for 1-phase installations.
The energy meter is then connected to a Velbus kWh input module, so that Velbus has the current consumption and injection data. This data is updated every second and is used for visualizing the energy situation and smart switching of consumers.
PV solar panel production, consumption of specific circuits and energy measurements of the home battery can also be read out via additional counters. However, this information is not necessary for smart switching.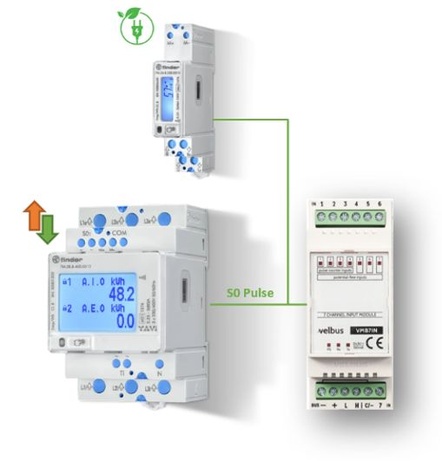 Visualize & report
The Velbus energy solution offers an easy-to-understand visualization of your energy situation by showing 3 colors on the Edge lit control panels with or without an OLED screen:
- Green for injection into the electricity grid
- Orange for consumption between 0 and 2.5 kWh
- Red for consumption from more than 2.5 kWh
It is possible to personalize the colors via the free Velbuslink configuration software, so that they are tailored to your unique energy situation.

Furthermore, the control panels display the current energy information on the OLED screen (the current consumption/injection in W), depending on which situation is active at that moment. If additional counters (like solar panel production) are added, they can also be visualized. The control panels contain an internal clock & thermostat, so that you can control heating or cooling systems if you add additional relay modules to control the HVAC system.

The Velbus control panels are installed in central places in your home (for example in the living room, kitchen, office, night hall, etc.), so that you get a clear view of your consumption in the blink of an eye. When switching on or off consumers, you see the color of the panels change instantly, so you know what influence the current situation will have on your bill.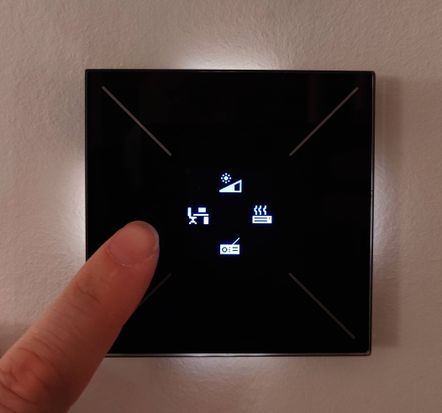 You can take immediate action to improve the situation, for example by switching certain consumers on or off. In the previous example, you can choose to temporarily switch off the heat pump when cooking, so that you spread the consumption and the peak consumption is a lot lower than before. 
If you also choose the control option with Velbus, switching consumers on and off can be done from the control panel that gave you the consumption warning. Each consumer can have their own page, so you have a fast and reliable way to control your devices.
Visualizing the energy situation is a very powerful tool. Where other systems opt to only report via a smartphone application, Velbus chooses to bring this information to your living room, kitchen, office so that you have an instant view of the energy situation and interaction is possible to make smart decisions. This way you won't get nasty discoveries on the energy bill afterwards. Because Velbus is a modular system, the control panels can also be used to operate light points, appliances, link with other systems, etc., so that they really contribute to a smarter living.
With the addition of the Signum IoT gateway, you also get the option to remotely consult energy information and switch devices on and off. From March 2023, energy dashboards with detailed graphs will be available via an update thanks to the Home Assistant integration. This update will be available free of charge on new and existing systems.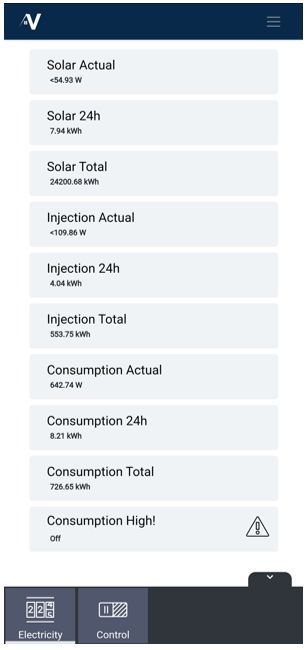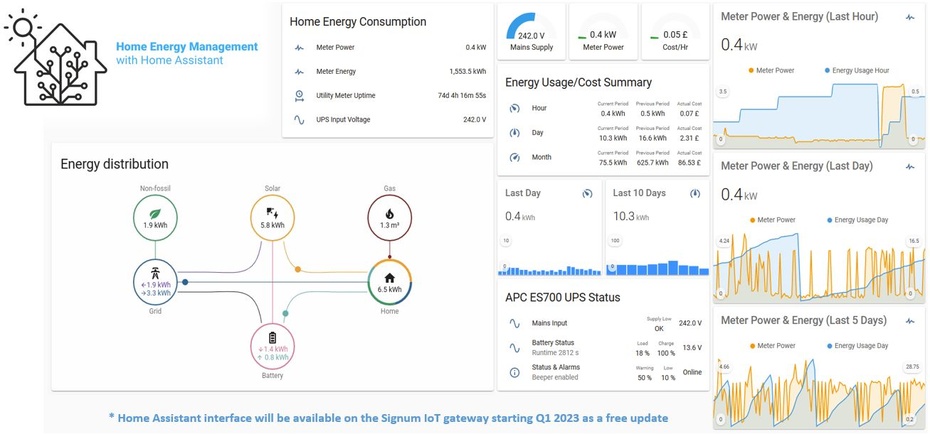 Control & Adjust

In addition to visualizing the energy situation, we want to avoid over consumption & over production situations and turn consumers on and off automatically based on the active energy situation. With Velbus, it's a piece of cake to accomplish this.
For example, the charging of the electric car only starts when the consumption of the home is lower than a set value, so a combined peak consumption will be avoided.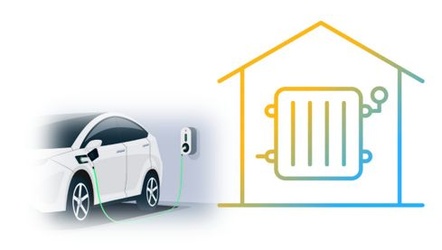 And vice versa, of course: if there is a lot of solar panel production, consumers (such as heat pump and air conditioning) can be forced to switch on, so that the energy is used at the moment it is produced. This way, your consumption and injection are spread out and you keep peak consumption and energy bills under control. 
Velbus achieves this with relay modules that can control up to 4 consumers individually. Via set rules, the relay module is programmed when to turn the consumer on or off. This configuration is done by following a wizard in our free configuration software Velbuslink. You specify how a certain device is controlled based on pre-set situations: always on, only on when consuming under a specific level, only on when injecting or only on when injecting above a specific level.
You make a connection between your PC/Laptop and the Velbus installation via a USB connection and the USB configuration module or wirelessly via the Signum IoT Gateway module.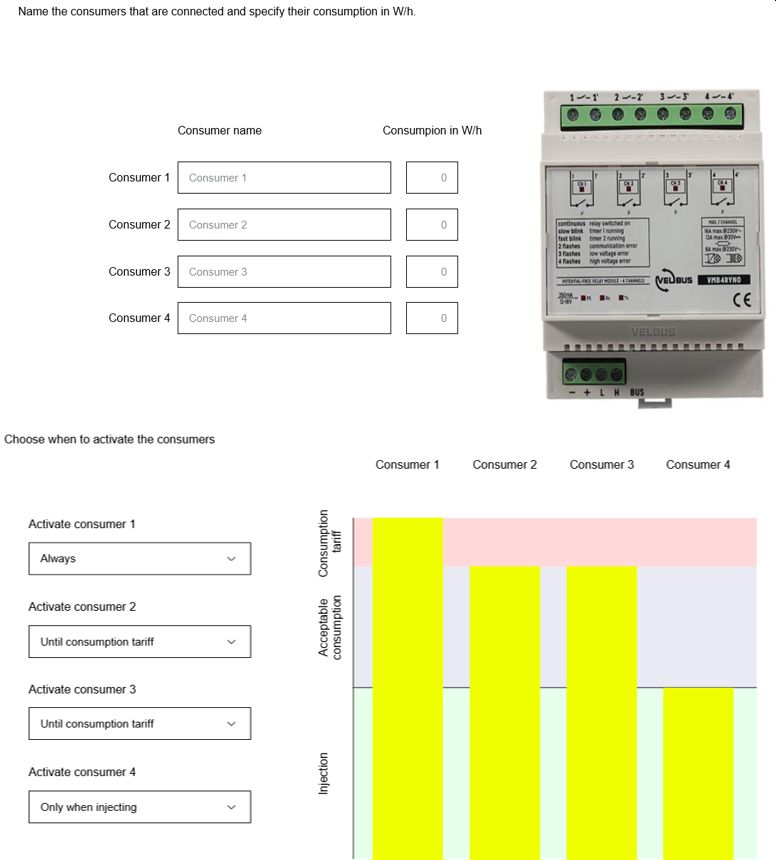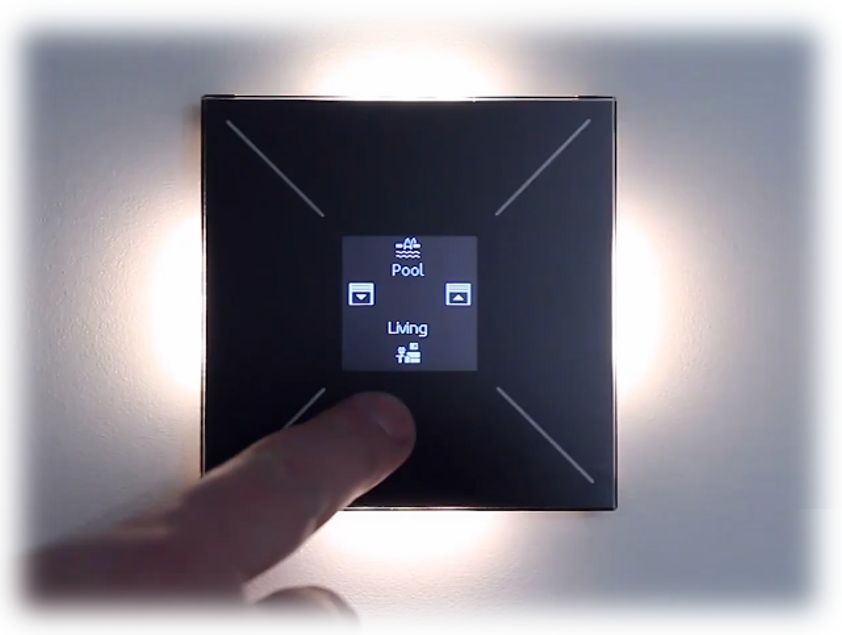 If control panels with OLED screens are present in the Velbus installation, a separate control page can be provided for each consumer on the panel, which you can take over manually if the automatic configuration is not useful at that time.
For example: the configuration is set so that the electric car will only charge if the consumption in the home is lower than 6 kW.
If you are cooking at that moment, there is a total consumption of 8 kW, so the car will not charge. If you want the car to charge in a certain case, you give a command via the control panels so that the standard configuration is temporarily ignored and the car still charges. Of course there will a peak consumption and you will pay more, but that is your own decision.
This way you have an automatic system, but you always stay in control of your installation.
How does it work?

Via the diagram below you can discover how our energy solution is set up.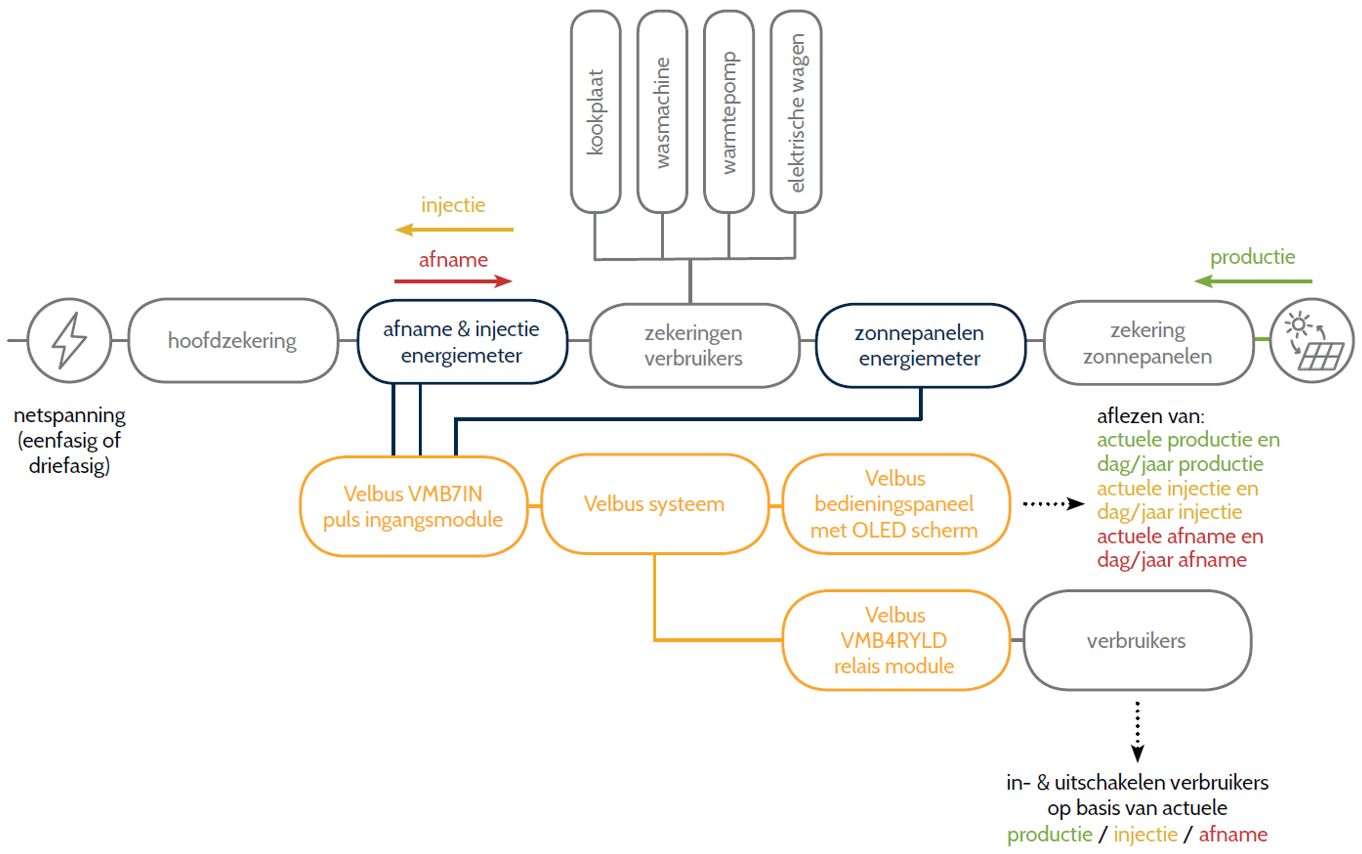 Velbus is a decentralized modular system, where modules are added depending on what building blocks and functionality you need. There is no central processing unit, all modules work independently and communicate with each other via a wired bus network.
To start, Velbus records the current energy situation via the pulse input module that receives information from the bi-directional energy meter (which is placed after the main fuse). This information is then communicated via the bus network to other Velbus modules. In our energy solution, we report the current energy situation via the control panels with edge lighting and OLED screen. Depending on the linked energy meters, the shown information is the current, daily and annual data of energy production, energy injection and energy consumption. Lastly, the consumers (via relay modules) are switched on and off automatically based on the current injection and consumption of energy. You set these rules yourself via the wizard in our Velbuslink configuration software.
The technical diagram below contains all building blocks for measuring, configuring, smart switching and visualization with the Velbus control panels. Further expansion of this system into a complete building management system is of course possible. Velbus guarantees lifelong expandability, so you can let your system evolve along with your home or installation.


Starting from the left side:

FIN7M.38.8.400.0112 bi-directional energy meter that measures both injection and consumption and forwards this to the Velbus input module VMB7IN via pulse signals. Note the connections, each pulse channel is taken in twice on the input module.

VMBPSU-2, the Velbus power supply with associated fuse. A 6A fuse is sufficient.

VMBRSUSB, the configuration module that allows you to configure the Velbus installation via USB connection to your laptop/PC and the free Velbuslink software. Did you also add the VMBSIG IoT gateway? Then you do not need this module and you can connect wirelessly to the Velbus system.

VMB4RYLD 4-channel relay module, which can switch 4 channels with a max load of 230V 16A (total load).
Warning: For heavy consumers with capacities > 3.7 kW (such as an EV charging station) an additional contactor is required, such as the Finder 22.44.0.230.

VMBELO control panel with OLED screen for feedback & operation of the Velbus installation/devices.

Additionally, the IoT gateway (VMBSIG) (not shown in the picture) can be added for online operation and reporting.


Velbus Energy Management Sets

To help you get started with our Velbus Energy Management solution as easy as possible, we have developed 2 sets that contain all the necessary modules: a monitor set & a control set. Thanks to the modular structure of the Velbus system, it is of course possible to expand each set, so that, for example, you can also switch devices on and off with the monitor set (by adding a relay module) and afterwards add visualization to the control set by adding a control panel.
VMBEMS1* Velbus Energy Monitoring Set
This set contains everything you need to visualize the energy situation of your installation:
* VMBPSU-2: Velbus power supply 15V 4A
* FIN7M.38.8.400.0112: Bi-directional energy meter with two SO pulse outputs
* Pre-configured VMB7IN: Velbus 7 channel input module
* Pre-configured VMBELO-PF: Edge Lit control module with OLED display & temperature controller
* VMBRSUSB: Velbus configuration module with 2m USB cable
* Step-by-step starter guide 
The Edge lit control panel displays the current energy situation via simple colors and the OLED screen displays the current power of injection or consumption.

This set is fully pre-configured and therefore only needs to be installed and wired. The average installation time is only 30 minutes. If you wish to adjust the colors & peak value, this can be done via our free configuration software Velbuslink & the accompanying USB configuration module.
* The Velbus Energy Monitoring Set is available in two versions:
With a white control panel VMBEMS1W   or with  a black control panel VMBEMS1B.

VMBECS1 Velbus Energy Control Set

This set contains the same modules as the Monitor Set, but instead of a control panel for visualization, a 4-channel relay module has been added for controlling up to 4 devices/circuits.
Thanks to the easy-to-follow wizard in our free Velbuslink configuration software, you can configure which channel should be active or inactive in a specific energy situation.
Cabling, installation and configuration is done within 60-90 minutes. During the installation wizard, you will be asked about idle consumption in the home and the power of the devices to be connected, so make sure you have this information to hand. 
Attention: Depending on the power of the load that will be switched, the use of an additional contactor is required.

You can find more information about our VMBECS1 set here.
Premium for electric heat control

If you have solar panels and you connect a heat generator to them (a heat pump, heat pump boiler, electric boiler or an accumulation heater), then you might be eligible to claim a premium for electric heat control for the energy management system you have installed.
Installations placed in Flanders (until 31 Dec 2024) are eligible up to 50% of the invoice amount of your control device, including VAT for residential buildings and excluding VAT for non-residential buildings, with a maximum premium of €400. The Velbus Energy Management system is eligible for this premium if it has been installed by a certified installer. The following modules must at least be included in the system:
Finder Bi-directional energy meter FIN7M.38.8.400.0112

Velbus 7-channel input module (4 pulse inputs) VMB7IN

Velbus relay modules VMB4RYLD or VMB4RYNO or VMB1RYNO or VMB1RYS
You can find more info about this premium on the following sites:
Vlaanderen.be  Fluvius.be  Application Form

Frequently Asked Questions

After reading all about our energy management solution, you still might have some questions. Have a look at the frequently asked questions that we already answered in the past.